&nbsp
Your cart is currently empty
Earn 5% Rewards Points for every order placed on line, >> more info
Afrique en Poche
SKU:
Click to view all titles
Stock:
67
---
Books written by authors from around the French speaking world
Cadet: (Orange covers) Suitable for children 11+ years Independent Readers.

Junior: (Green covers) Suitable for teens 13+ years. Independent Readers.
~~~~~~~~~~~~~~~~
Auteurs francophones
Cadet: (Couverture orange): Pour les enfants 11 ans et plus. Lecteurs confirmes.

Junior: (Couverture verte): Pour les adolescents de 13 ans et plus. Lecteurs confirmes.
---
---
To view all available titles, please click on the "Select Titles" Option below
Afrique en Poche - Junior: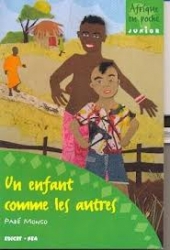 Un enfant comme les autres.
Pabe Mogo.
Papa Mongo est un enfant comme les autres. Petit citadin, il passe traditionnellement les vacances scolaires au village; il plonge alors avec bonheur dans un univers proche de la nature. Une personne l'emporte dans ses souvenirs d'enfant puis d'adolescent: sa grand-mere Ayaa. Autour d'elle gravite la famille avec en arriere-fond le monde de la magie. Les aventures de Papa Mongo sont pleines d'imprevu et d'humour.
Theme: Differences between life in the city and the traditional life in a village where magic is part of the background.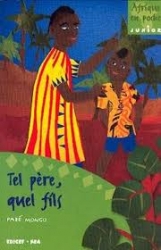 Tel pere, quel fils. Pabe Mogo.
Un fils se souvient de son pere... Avec le recul du temps, il mesure tout ce qu'il doit a cet homme dont le comportement lui avait paru, autrefois, quelque peu bizarre. N'avait-il pas fui la case familiale pour s'installer, seul, au milieu de sa plantation? Pabe Mongo nous propose un recit alerte, une evocation pleine de tendresse d'un passe revolu, une interrogation sur le rapport entre les generations.
Theme: A look at relations between generations through the eyes of a grown-up son remembering his father.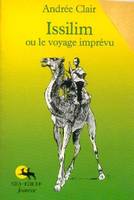 Issilim ou le voyage imprevu. Andree Clair.
Issilim est recu premier au Certificat d'Etudes! Helas, mnalade le jour des bourses, il est refuse. Il decide alors de chercher du travail et part a Niamey, la capitale. Mais il s'adapte mal a la grande ville ou il ne reussit pas a se faire embaucher, et ou s'abat sur lui le 'mardi de la honte'.
Aussi, quand on lui propose une place d'aide chauffeur, il accepte tout de suite: il voyagera, decouvrira le Niger et apprendra un metier passionnant...
Theme: The life journey of a bright teenager and his troubles to make it in the very traditional society of Niger.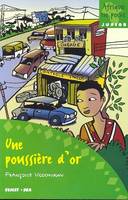 Une poussiere d'or. Francoise Ugochukwu.
Oba, village situe dans la foret du Nigeria, se transforme de jour en jour...
Des boutiques s'ouvrent, des pylones electriques se dressent un peu partout, de petits immeubles sortent de terre. Si certains regrettent le temps passe, d'autres, au contraire, se rejouissent de l'animation qui regne dans les rues et au marche.
Une autoroute acheve la modernisation d'Oba et permet aux membres disperses de la famille d'Udoka, de se retrouver, grace aux emplois crees par cette route 'a la poussiere d'or...'
Theme: The impact of a major road construction on a remote village in Nigeria.
Djeri a l'elephant. Jean D'Esme.
Djeri, un jeune garcon de huit ans, quitte un jour son village, sur le dos d'un petit elephant qu'il veut sauver de la captivite. Pendant plusieurs mois, il va partager l'existence d'une harde d'elephants, observant la vie des animaux sauvages, apprenant aussi a survivre.
Il retrouve son village et les siens, au moment ou Aouk, l'elephant, n'accepte plus de vivre avec un petit homme.
Cette aventure extraordinaire et passionnante, c'est un chasseur, Djerisegote, qui la raconta en 1929, au Tchad, a Jean D'Esme, l'auteur de ce livre...Cette histoire est donc une histoire vecue racontee avec emotion par un homme qui connaissai la brousse et le moeurs des grands fauves...
Theme: True story as told to the author by an old warrior about a young boy leaving his village to live amongst an elephant herd in Tchad.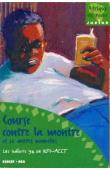 Course contre la montre. 13 histoires courtes, 13 auteurs, 6 pays d'Afrique.
Du Niger: Course contre la montre. Chaibou Mahamane Karibou - Souffre-micro. Jean-Marc Lompo - L'ami de la rue des mendiants. Kadry Koda Oumarou
De la Tunisie: L'homme de lointaine tendresse et de silence. Ines Hochani
Du Cameroun: Folle comme sa mere Theophile. Tchagain Kouamouo - Nera. Aissatou - Beyala. Jacques Paterne Mbe.
du Burkina Faso: Le sang de la rivalite. Arsene Hamougouni Yonli.
Du Senegal: Kane Abdou. Wahab Kane - Myana. Marieta Fall - La mort frappe quand elle veut. Abidou Kane Diallo - Victime de la vie. Ayavi Marie-Isabelle Lake.
Du Togo: Le peloton de queue. Malik Evarist Tchapedeou.
Theme: 13 shorts stories, 13 authors from 6 different African countries.
---
Afrique en Poche - Cadet:

Le secret de Monsieur Clodomir
. Marie-Therese Rouil.
L'histoire se deroule a la Martinique. Un jour, Philippe, un garcon de 10 ans rencontre un vieil homme, Monsieur Clodomir. Le premier n'aime rien tant que gambader dans la nature, en quete de nouvelles decouvertes. Le second vit an solitaire, soupconne par les gens du village de causer avec le diable et de pratiquer la sorcellerie. Leur rencontre sera l'occasion d'apprendre a depasser les prejuges, l'opportunite de construire une incroyable amitie et de decouvrir la Martinique des origines...
Theme: In Martinique, a 10 year old boy and an old man become friends and discover each other's world.
La source interdite. Francoise Ugochukwu.
Au coeur de ce roman, l'eau ou plutot sa terrible absence quand la secheresse s'abat sur un village du Nigeria, engendrant drame et angoisse. Par leur dynamisme,les jeunes reussissent a faire amener l'eau jusqu'au village. Une maniere d'evoquer les divergences entre les generations eet de parler du 'progres' quand il se heurte a la tradition...
Theme: Centered around the impact of water scarcity, this short novel presents the divergent approaches by the young generation and the traditional society to tackle the problem.
Description: Soft Cover - 6.5 x 4 in. -
Terms: Purchase 3 books (any price) between now and Dec. 16, 2018, receive 20% off your entire order. Discount valid for all in stock products only, excludes all product by subscription (magazines,e-magazines, rentals...), clearance and markdown products, posters, and games -
*: Now until Feb. 22, 2017 - Coupon sent by email - No purchase necessary - Must be a registered customer of Lectures de France to refer a teacher - Coupon sent by email & valid for 60 days after issuance - Send referral information by email to sales@lecturesdefrance.com - Coupon issued after referral email verification - Limit 1 referral by registered customer - 15% discount not valid for all product by subscription (magazines,e-magazines...), clearance and markdown products, posters -